Hello,
My name is Jonathan Segel, I'm a musician, songwriter, composer, audio engineer, etc. I've been in the recording and performing biz for all of my adult life, making rock music, improvised music, composed music, music for film and dance and anything else I could possibly do. I'm probably best known as the violinist/multi-instrumentalist for Camper Van Beethoven, or possibly for playing in Sparklehorse in the late 1990s.

This Bandcamp page has multiple examples of the music I have been doing on my own over the past 25+ years, and my intention is to keep doing it. I like recording music, I like listening to recorded music. (I like performing too, but this is really about the recorded part of things.) I see the final product of recording as a sort of sculpture made of sound, and I've gotten pretty good at making these things, as I've gotten better as a player. Unfortunately, as we well know now, the trade value of recorded music has dropped precipitously over recent years. I'm not gonna stop doing it, regardless.

So here's a chance to subscribe to my continual musical production. I guess that given the retail value, this is tantamount to charity—perhaps you could consider it a few bucks dropped into the hat of the street musician every month.

Subscribing means keeping me going: I'll be making music toward some specific goals (e.g. an "album", whatever that means these days) while continuously experimenting on the side. If I am hired to make music for dance or film, I'll have that here. If I record a jam session with other musicians, you may get a nicely mixed recording of that. Whenever I work out experiments made on whatever I'm working with, you'll get that. And when I feel like an album is done, you'll be first to know.

If you like all kinds of sounds, this will be good, if you're only into specific musical styles, you may receive music that doesn't float your boat—if that happens, I'm here to discuss it! I like to talk about the whys and wherefores of sound and music and art. (I've even been a guest on The Partially Examined Life, a philosophy podcast, discussion aesthetics and music!)

So if you've read this far, come on and subscribe. You'll get a few albums immediately to check out, and eventually you can rifle through all of the back catalog... and see what's coming up!
Here's what you get:
All the new music I make

streaming instantly on your mobile device via the free Bandcamp app, and also available as a high-quality download.*

Access to subscriber-exclusive messages:

These back-catalog releases:
A 20% discount on all my merchandise.
The satisfaction of knowing you're supporting me in a sustainable way.
Join:
For $5/month, you get everything above.

You're a subscriber

Thank you!

For $10/month, you get everything above, plus:

I don't really know what more you're gonna get at this level, I'm not so happy about having to keep track of multiple "levels" of subscription (where's my damn assistant?) but I'm gonna get your address so maybe I'll send you postcard.

I'd possibly also accept old guitars or maybe high-end coffee as well.

(Bandcamp is taking 15% of this shit anyway, you know.)

You're a subscriber

Thank you!
* Downloads are DRM-free and available in MP3, FLAC and
more
.
Jonathan Segel
Sweden
Latest Release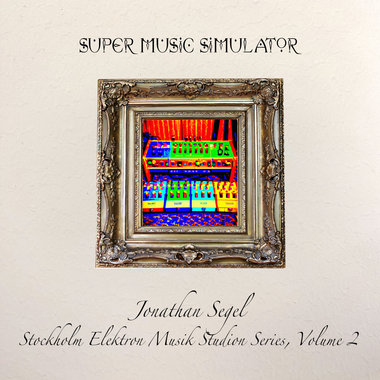 Super Music Simulator